Just Who is Design Initiatives?
The girl behind the mask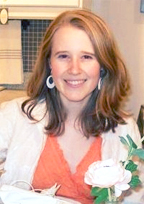 Jenny Collinson, a resident of Litchfield, Maine, is the creative force behind Design Initiatives, the company she started in 2004 as an outlet for her creative energy.
Jenny completed her masters degree in Design: Brand Development, at Bath Spa University School of Art and Design in Bath, England in 2011 where she graduated with distinction.
A brief history
Jenny started learning about computer graphics as a sophomore at Smith College in 2001. In her first class she learned the very basics of Adobe Photoshop, Adobe Illustrator, and Quark Express. In later classes she learned other multimedia computer programs such as Macromedia Flash, Adobe Pagemaker, Macintosh imovie and Final Cut Pro.
After spending her junior year abroad in Hamburg, Germany, she did a two-week internship in the art department at Cosmopolitan Magazine in London. Here she picked up many tips and tricks for working in Photoshop. After she graduated she worked for Connecticut artist Karen Rossi, and by default became her webmaster of karenrossi.com. Having only slight HTML knowledge, she quickly learned web design and the program Dreamweaver. She was also able to audit a CSS and JavaScript class at Smith in her spare time.
The present
Today Jenny is the Director of Marketing and Communications at the Hyde Schools, based at the Bath, Maine campus. Previously, she was the graphic/web designer at Syntiro, a non-profit organization that creates environments where people can learn and achieve. View her Portfolio to see recent work. Jenny is an avid digital photographer and also enjoys teaching Photoshop, Web Design, and Desktop Publishing classes. You can read more about her love of design on her blog Vivid Orchid, or read about her work in how to promote local food at NurtureME.us.
Jenny has been internationally recognized for her work in the art field, which you can read more about on the Awards page.
Find out more about what people think of her work on the Testimonials page.
You may also download her resume as a PDF - Hartung Resume
She currently resides at her new farm with her husband, 13 chickens, 3 hives of bees, and cat, and is expecting a baby daughter this fall.